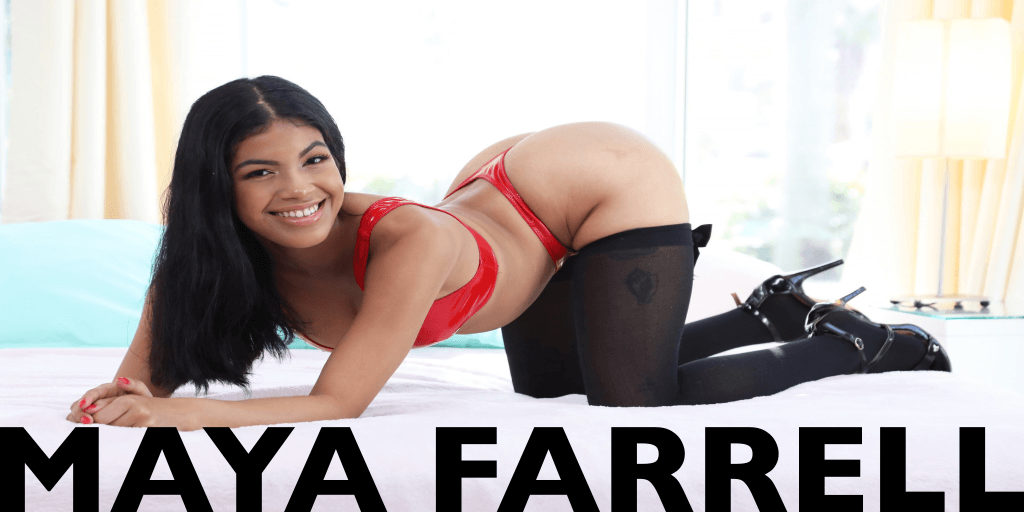 Tell us a bit about yourself
Maya Farrell: I'm a young adult enjoying her 20s in the best way. I love gardening and being outside. I am a college graduate and I'm actually going back to school soon for horticulture. 

Describe yourself briefly growing up?
Maya Farrell: Growing up was very hard for me. Long story short, I ran away from home at 16 to find serenity and to continue my education.

What are your stats/measurements?
Maya Farrell: 34C height: 5'3 weight: 112 lbs

How did you start within the industry?
Maya Farrell: I started by originally cam modelling then transitioning to adult industry a few years later
How did you create the name?
Maya Farrell: My ancestors are Southern Mayan so that's where my first name derives from. And then I wanted MF as my initials so I came up Farrell. 

What do you enjoy most about being a pornstar?
Maya Farrell: I love being on set. It's awesome to have fun but also be focussed on career at the same time.

Where do you see yourself in 5 years time?
Maya Farrell: I honestly probably be retired in 5 years and focus on making change in my community.

What's your favorite sexual position on & off camera & why
Maya Farrell: On camera: missionary because the camera is directly on my face and I'm smiling. Off camera: being choked from behind in Pronebone because I love being suffocated.

Which pornstar would you most like to work with?
Maya Farrell: I would love to work with Owen Grey and Oliver Flynn. I used to masturbate to Grey all the time! When I got into porn, I discovered Flynn and his dick is so beautiful to me.

What would you change about the adult industry?
Maya Farrell: I would change how we categorize porn. Interracial porn shouldn't be only white women with black men. The category should include any more than one race in a scene. Asian, black and Hispanic women should be included if they are having sex with a different race.

Have you ever been grossed out during a shoot?
Maya Farrell: I haven't been in the occasion yet. Everyone is very clean on set.

Are there any sex acts that you haven't shot yet but want to?
Maya Farrell: I want to a split on the dick in one of my scenes. I think I'm flexible and I think directors should use those abilities of mine more.

Has the stigma around the adult industry affected you?
Maya Farrell: There's a stigma that there are less scenes for black women in porn and it has definitely affected me. Especially with the Black Lives Matter Movement, companies should make more black and brown porn.

What's the weirdest thing that you've been asked to do during a shoot?
Maya Farrell: It's not even that weird but lick another girls asshole. The first time I was asked, I hadn't done it before so I was nervous I wasn't going to do a great job haha.

What advice would you give to someone wanting to get into the industry?
Maya Farrell: Own your work.

What hobbies & interests do you have outside of the adult industry?
Maya Farrell: I love to pole dance, write poetry, gardening, reading and recreational activities. I'm an adrenaline junkie.

Do you use sex toys? If so which ones?
Maya Farrell: I love using a magic wand during sex. I have been wanting to buy a gag ball for myself.

To date which porn scene are you most proud of & why?
Maya Farrell: I'm most proud of my penthouse scene which I did last month. It hasn't been release yet but I'm so excited to see it. It's for television! That's why I'm proud hahha.

Do you watch porn? If so what type?
Maya Farrell: I watch my own porn actually. It's hard for me to watch porn because I don't want to masturbate to my friends, hence I masturbate to myself.

If you were interviewing a pornstar what would you ask them? & answer this question


Maya Farrell: I would ask: where they are from? Answer: Tampa, Fl.

What really turns you on?
Maya Farrell: An intelligent simpleton.

Who would you like to nominate to answer these questions within the industry?
Maya Farrell was interviewed by Lior

More of Maya Farrell can be seen by clicking the links below