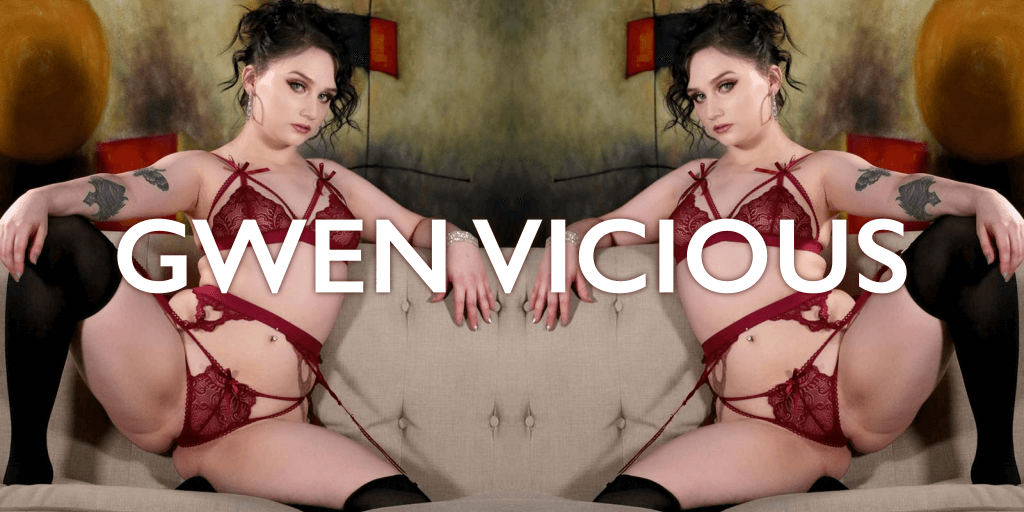 Tell us a bit about yourself
Gwen Vicious: Well I'm 22 years old and from Kansas. I moved to LA in November of 2019. I graduated highschool in 2016, and went to college for Chemical Engineering.
What are your stats/measurements?
Gwen Vicious: 34C-26-34 are measurements height 5'4″ and weigh 120lbs!
How did you start within the industry?
Gwen Vicious: I got my start in adult work a few years ago on MyFreeCams, but I started studio work with the help of my current agency, Nexxxt Level!
How did you create the name?
Gwen Vicious: I chose Gwen because I felt it was gothy and sweet, and the Vicious pays homage to Sid Vicious and my love for punk culture.
What do you enjoy most about being a pornstar?
Gwen Vicious: Meeting other people within the industry. Everyone is so cool and genuine, it's always nice meeting such creative and sexy people!
Where do you see yourself in 5 years time?
Gwen Vicious: I would love to run my own business related to adult work, maybe like a bootcamp for new performers or a fetish clothing company.
What's your favorite sexual position on & off camera & why
Gwen Vicious: On camera I love throat fucking! It looks very nice and feels rewarding. Off camera I like being in an upright doggy position, it allows me to be close and intimate with my partner.
Which pornstar would you most like to work with?
Gwen Vicious: I'd love to work with Katrina Jade! She's very beautiful and seems down to earth.
What would you change about the adult industry?
Gwen Vicious: The use of racism, racist stereotypes, and insensitive plot lines in some scenes. Not all porn profits off of racist content, but enough of it does that it's a problem that has been and should continue to be discussed.
Have you ever been grossed out during a shoot?
Gwen Vicious: I dont think I've ever been grossed out. I've been in what would be considered gross situations, but it's all human and has never bothered me.
Are there any sex acts that you haven't shot yet but want to?
Gwen Vicious: I'd love to do a "forced cumming" type scene. One where I'm tied up and have a fuck machine on me or something.
Has the stigma around the adult industry affected you?
Gwen Vicious: It has affected my dating life mostly. People I meet assume I'm only interested in sex and dont wan't anything serious, or if they do want something serious they are afraid to commit because of my job. I just usually keep that person as a friend and move on, it's not that big of a deal to me.
What's the weirdest thing that you've been asked to do during a shoot?
Gwen Vicious: I had to puke into a bowl, then have that bowl dumped on my head. It was very fun and I thoroughly enjoyed it, and I'm sure there are weirder things out there I've yet to try.
What advice would you give to someone wanting to get into the industry?
Gwen Vicious: Do lot's of research and be certain it's absolutely what you want to do. You have to genuinely enjoy this type of work to succeed, and a thick skin is a must.
What hobbies & interests do you have outside of the adult industry?
Gwen Vicious: I'm very passionate about skateboarding. When I'm not filming I'm either skating or watching skate parts. I also love taking kickboxing and MMA classes.
Do you use sex toys? If so which ones?
Gwen Vicious: I use lots of sex toys! Massage wands, tentacle dildos, and butt plugs are my favorite.
To date which porn scene are you most proud of & why?
Gwen Vicious: I have two. I love my Bound Gangbang scene with Kink because it fits my sexual interests most out of any scene I've done, but I also love my Perv City anal scene because I worked very hard to get in shape and stretch my booty hole out for it! Plus Perv City's camera work is always very flattering and fun.
Do you watch porn? If so what type?
Gwen Vicious: Every now and then I do. I watch lesbian porn or solo female stuff!
If you were interviewing a pornstar what would you ask them? and answer this question yourself
Gwen Vicious: I would ask them what their favorite part of preparing for a scene would be. For me, I always do a whole spa day before each scene and it really helps me feel sexy and confident!
What really turns you on?
Gwen Vicious: Lots of things. The basics like neck kisses, breathing down the neck, rubbing my thighs, and telling me what you wanna do to me turns me on. Also on the more extreme side, violence really gets me going. I love being yelled at and thrown around, since I do MMA I like to fight back and then it's like a game for dominance.
Who would you like to nominate to answer these questions within the industry?
Gwen Vicious: Febby Twigs!
More of Gwen Vicious can be seen by clicking the links below