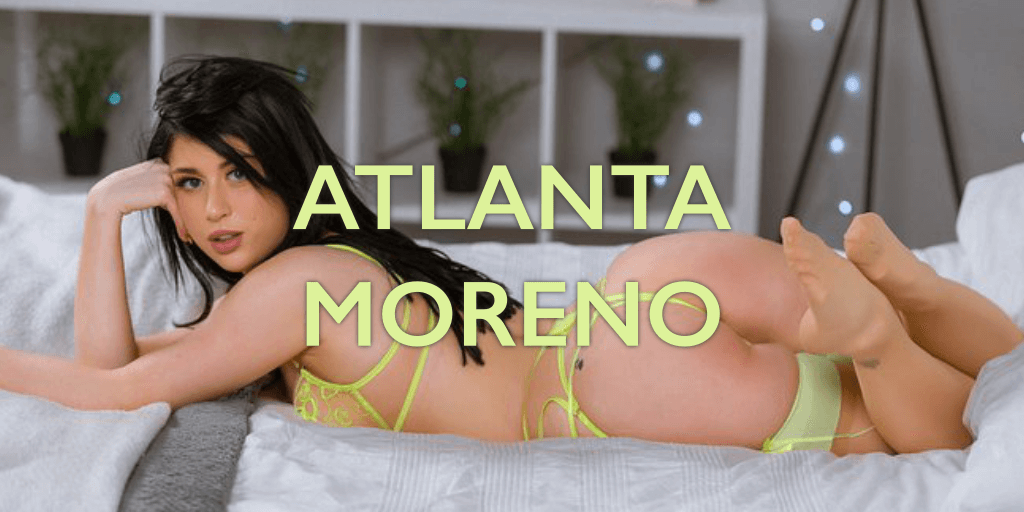 Tell us a bit about yourself
Atlanta Moreno: I'm 22 year old model, dancer, gymnast and pornstar. I love shooting anything crazy or creative . Outside of work I love to learn languages , I also love to dance, whether salsa or belly dance I enjoy it all!

Describe yourself briefly growing up?
Atlanta Moreno: Growing up I spent most my life doing gymnastics, I trained 5 times a week! That was until I became a very rebellious, badly behaved teen, but even then I still enjoyed gymnastics and school.

What are your stats/measurements?
Atlanta Moreno: 32D-23-34  height 5'4 weight 56kg.

How did you start within the industry?
Atlanta Moreno: I started dancing when I was 18, and I worked full time in the adult industry from then on. I had modelled in my teen years, but started to shoot glamour at 19. I joined Babestation the week after my 20th birthday and that lead me to where I am today!

How did you create the name?
Atlanta Moreno: I love Greek mythology, I named myself after a goddess named Atalanta. She was known for how fast she could run, every man wanted to marry her and she promised them they could- if only the could out run her! They never could. I thought this was very apt for the job, to be desired, yet perpetually just out of grasp.

What do you enjoy most about being a pornstar?
Atlanta Moreno: I love that every single day is different , whether I'm meeting new people, trying a new fetish,or in a new country. I live an interesting life!

Where do you see yourself in 5 years time?
Atlanta Moreno: I see myself being better educated, a polished performer and most importantly, happy!

What's your favourite sexual position on & off camera & why?
Atlanta Moreno: On camera I love doing flexible positions, I think they take anything I film to another level. Off camera I enjoy spontaneous sex, so whether I'm pushed up against a wall or laid on the floor I think it's hot!

Which pornstar would you most like to work with?
Atlanta Moreno: That's such a hard question, I have a long list! I'm a big Asia Carrera fan, I would've loved to have worked with her.

What would you change about the adult industry?
Atlanta Moreno: In England the adult industry is very underground, I'd love to feature dance and have some of the same opportunities the girls in the US do.

Have you ever been grossed out during a shoot?
Atlanta Moreno: Nope! Luckily only good experiences!

Are there any sex acts that you haven't shot yet but want to?
Atlanta Moreno: I haven't done my first boy girl scene, I'm excited for when I do- It will be amazing!

Has the stigma around the adult industry affected you?
Atlanta Moreno: I've never been bothered about what anyone thinks of me, so words or criticism hasn't affected me. However I've had some problems with bank accounts or travel, for no other reason than my job. They're issues still currently unresolved.

What's the weirdest thing that you've been asked to do during a shoot?
Atlanta Moreno: I once got 'roasted' like a turkey! I got my legs tied behind my head, on a platter of vegetables with an apple in my mouth and an aubergine in my pussy! One of my favourite shoots ever!

What advice would you give to someone wanting to get into the industry?
Atlanta Moreno: It's a job, not a lifestyle.

If you directed a scene what would it be about aand who would feature?
Atlanta Moreno: I'd love to do a historical scene, perhaps a Cleopatra or a harem scene. I'd want there to be lots and lots of sexy girls, I'm not sure who I'd cast as the male roles!

What hobbies & interests do you have outside of the adult industry?
Atlanta Moreno: I am currently taking Spanish and Portugese lessons as I love learning languages. I love to read, paint, create outfits or anything creative! I also love to dance, I particularly love salsa and belly dance and I go to lessons/dances a couple of times a week.

Do you use sex toys? If so which ones?
Atlanta Moreno: I use all sorts! My personal favourites are my big vibrator, and my glass anal beads, I use those in my personal life. For cam, I love using wild and wacky toys- I'll give anything a go once!

To date which porn scene are you most proud of & why?
Atlanta Moreno: I did a really beautiful scene with a girl called Cristal Caitlin, there was so much sexual chemistry and genuine passion. Even the set was beautiful with sunlight streaming in through the curtains onto our skin, it was beautiful!

Do you watch porn? If so what type?
Atlanta Moreno: I love massage porn, and lesbian porn! I also really appreciate scenes with beautiful sets,costumes, and well acted parts.

If you were interviewing a pornstar what would you ask them? & answer this question
Atlanta Moreno: I would ask them what they think the perfect pornstar consisted of. For me, I think it's beauty, intelligence and raw sexuality. Beauty can be interpreted how you want, beauty is in the eye of the beholder after all! I think one should be polished, and present themselves the best they can.
Intelligence, as to be able to stay in this industry you need to know what you are doing, and emotional intelligence to be able to compartmentalise the job. Finally, raw sexuality, as I think to get into this job you should really enjoy sex and exhibitionism, it shows through when you enjoy yourself!

What really turns you on?
Atlanta Moreno: I love giving lap dances, and the feeling of turning someone on while they have to sit and watch me. I love the sexual tension and the teasing element, teasing and tension can be better than sex sometimes!

Who, within the industry would you like to nominate to answer these questions?
Atlanta Moreno: I'd love to hear what Sasha Grey had to say to these answers, I love her work and I think she always has an interesting and intelligent take on the adult industry.

Atlanta Moreno was interviewed by guest interviewer Lior.

More of Atlanta Moreno can be seen by clicking the links below