Tell us a bit about yourself?

Sarah Arabic: I'm Sarah Arabic, as you can tell by my name, I'm 100% Arabic, born and raised. I'm adult content creator who enjoys exploring her sexuality with everyone.
Describe yourself growing up?

Sarah Arabic: I grew up in the Middle East with strict Muslim parents, who forced me to wear traditional hijab and abaya (traditional garb) growing up. My life back then is a complete 180 difference from what I am like now, I wasn't allowed to watch American or "Western" tv shows or movies, nor have friends of the opposite sex.
What are your stats/measurements?

Sarah Arabic: 36HH/I-29-40 height: 5'5" weight: 160
How did you start within the industry?

Sarah Arabic: It happened naturally, after moving to the states I was exploring my sexuality more, I stumbled upon a fetish website. From there that community encouraged me to share pics of myself, and try new things. From there I started to slowly gain the confidence to share more of myself. The compliments that followed through were more than I have ever seen before.
Overtime, I started sharing more and more. Someone brought the idea that I should start my own website, so I did, and it exploded from there, with a lot of people wanting to see a real authentic Arabic creator make the content they enjoyed. People then started asking if I would be featured in films.
So by the time I was featured in my first professional film, I had already amassed a big audience who would want to see me explore my sexuality.
How did you create the name?

Sarah Arabic: Sarah is an interpretation of my traditional Iraqi name, and obviously because I'm Arabic I choose that as my last name.
What do you enjoy most about working in the adult industry?

Sarah Arabic: I enjoy the sensuality and freedom of expression it provides. Every scene I do teaches me more and more about myself and how to please others.
The creativity aspect of it also plays a big role in it. Making my content the way I want to create it fulfills the creative side of my brain. I spend a lot of time looking at gear, watching videos for every new technology and filming equipment.
Where do you see yourself in 5 years' time?

Sarah Arabic: I haven't given this much thought, because to me, this is not a job, it's a passion. Whether I am filming or not, I will always be exploring my sexuality and kinks. Whether people want to be along for the ride in 5, 10, or 20 years from now, I will be doing it while I enjoy it.
What's your favorite sexual position on & off camera & why?

Sarah Arabic: On camera: Obviously I love Doggy style because it makes my ass look great, and it's easier for people to film, especially if the male talent knows how to position themselves. Off camera: laying on my stomach, viberator on clit, guy behind me. It stimulated both my clit and g spot, 10/10.
Are there any sex acts that you want to shoot?

Sarah Arabic: That's a great question, the short answer is no. Here's why, what you see me do is the thing that I want to do. When you follow me, you follow the journey of exploration and trying things I want to try. That's the fun part of my journey, when you see me do an anal scene is because i want to try anal and i found someone who's cool and interesting for me to do that with.
Same goes to any bondage and fetish scene. Are there things that I haven't done yet? Of course, lots. However, as I discover my sexuality these things will easily follow in place.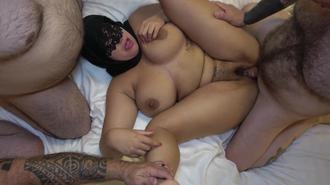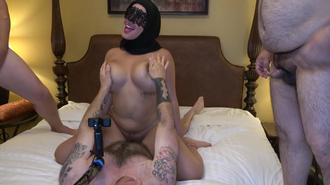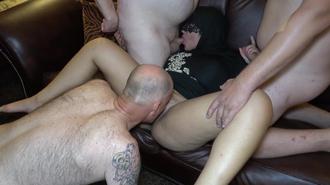 Which pornstar would you most like to work with?

Sarah Arabic: Riley Reid, and Joanna Angel. I've met Joanna at a few of the Exxxotica events, I always loved her stuff, and I love how she created and done her own thing. And Riley Reid is just really hot and I watch all of her stuff.
What would you change about the adult industry?

Sarah Arabic: I don't think I need to change the Adult industry, it's always changing already.
Previously the industry wasn't always fair to women, in order to be in the industry you'd have to be contracted by an agent who would tell you what to do, who to film with, what to film, and women had little to say about a lot of it.
Now with all the new platforms, women can take ownership of what they do and how they do it. No huge agency to tell them what to do, if they don't want to. So people like myself who don't fit the stereotypical mould, can go out there, do what I actually like and enjoy, and provide it to people to enjoy. This is the best time for a female creator to be in the adult industry.
Has the stigma around the adult industry affected you?

Sarah Arabic: Before I joined the Adult Industry, I used to believe that these films just happened. All the performers had to do is show up, have sex and then get paid.  
It wasn't until my first film that I realized how much work actually goes into every production. Everyone from cast to crew, pre & post production, marketing, model management, ect.. has to be present and engaged in order for the overall film to work.
Now that I get to work with these amazing people, it is hard to explain to those outside of the industry exactly how much work goes into one of these films. 
What's the weirdest thing that you've been asked to do during a shoot?

Sarah Arabic: In all scenarios I am already aware of what we plan on shooting before I arrive on set. Typically I know well in advance so I can plan my diet around what type of content we are going to shoot.
However, some of the most exciting films I have made were with some close friends of mine where we could be a little bit more relaxed / spontaneous.  The most recent film I made with Kaitlyn Katsaros comes to mind.
What advice would you give to someone wanting to get into the industry?

Sarah Arabic: Learn as much as you can, do your own research, and be open minded to other people's kinks. Asking other performers and people who work in the industry to teach you the ins and outs can be rude. People will generally not give you personalized advice when all the information is out there in the world wide web.
Have you ever been grossed out during a shoot and if so how did you handle it?

Sarah Arabic: I only work with known verified performers, so I've been lucky that I haven't encountered situations of me not knowing what would happen when it would happen.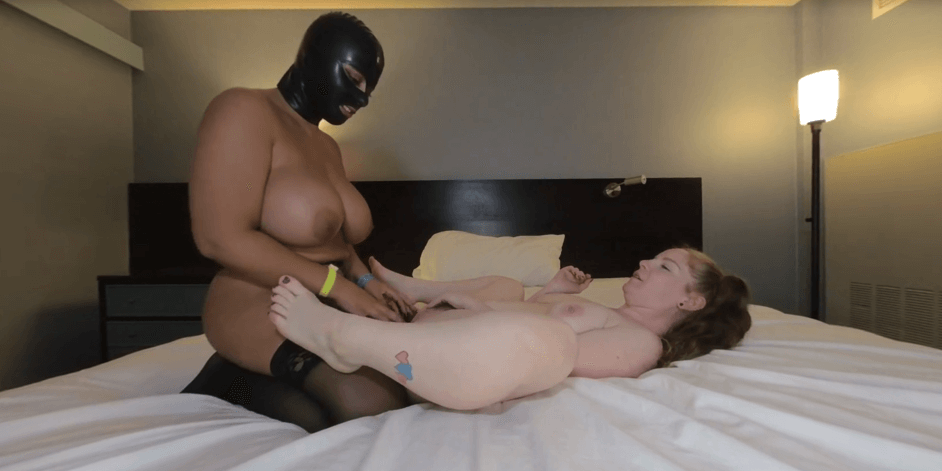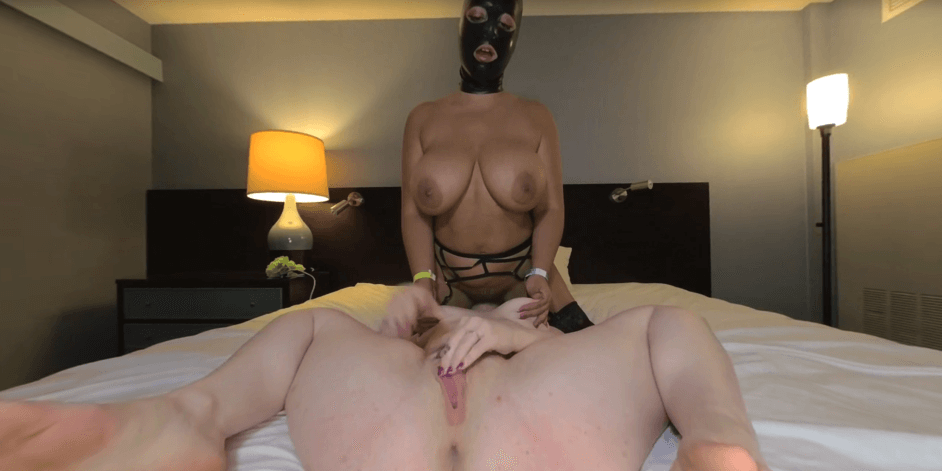 What hobbies & interests do you have outside of the adult industry?

Sarah Arabic: I love collecting plants, my guilty pleasure but being around plants and nature provides me with a lot of peace. I just started taking pole dancing classes, that's something I have always wanted to do and never really acted on it. Hopefully I'll be making good progress, and I would share it with everyone to see.
Do you use sex toys? If so which ones?

Sarah Arabic: I have a full room of sex toys, I enjoy playing with many of them. My favorite toy I have so far is the MotorBunny Buck from MotorBunny. I've always been a fan of their products, and the Buck is such a versatile toy, you can use it for vibration, penetration, alone, with a partner, and any other variation. 
To date which porn scene are you most proud of & why?

Sarah Arabic: My latest scene with Reality Kings, I have never expected a girl like me, born and raised in the Middle East to be able to go this far with the work I have done. It feels very fulfilling to know all the hard work I have put in actually resulted in a great opportunity. The shoot itself was also a dream, the people were very professional and friendly, it really put things into perspective for me.
Do you watch porn? If so what type?

Sarah Arabic: Yes! I love watching porn, the type depends on the mood I am in. Some times I enjoy watching the passionate scenes whether it's a boy/girl, girl/girl or boy/boy, to build the anticipation and tease. Other times, I enjoy the rougher types of porn for an explosive orgasm, the intensity varies from just choking to heavy bondage.
What really turns you on? 
Sarah Arabic: Intimacy and chemistry. Regardless of the scene, I always try to find a connection with the people I shoot with. I always look at the subtle reactions of the other person when we're together. People can try and fake their reaction "for the camera", but I enjoy a real and genuine reaction. Perhaps it's why I enjoy being voyeur, watching people engage in an intimate moment is always a huge turn on.

Who within the adult industry, would you like to nominate to answer these questions?

Sarah Arabic: Lenina Crowne, Rebel Rhyder, Subgirl0831 or Ray Ray
Sarah Arabic was interviewed by Lior
To see more of Sarah Arabic click the links below
Who's your favorite PORNSTAR?..