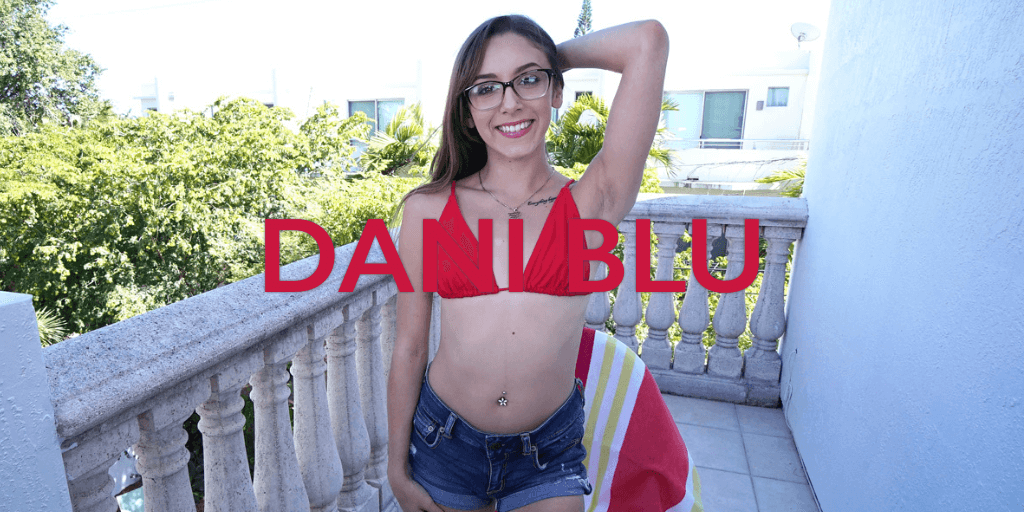 Tell us a bit about yourself
Dani Blu: Okay, I am a 5'2 Brunette. I love Chinese food, dancing, music, singing, art, I am going to school for Dermatology. I am 19 years old but I turn 20 in July my birthday is July 10th 2000. I love dogs I have a Labrador retriever, I love my job being an Adult film actress.

Describe yourself growing up?
Dani Blu: I was a very active child I climbed trees played outside I was in a softball team. I was a cheerleader and I danced.

What are your stats/measurements?
Dani Blu: I am a zero with a 32A and I am around 101 lbs and I am 5'2 tall.

How did you start within the industry?
Dani Blu: I quit my job at McDonald's and moved from my town lake Placid after putting an add on sexy jobs.

How did you create the name?
Dani Blu: Ed powers gave me my name.

What do you enjoy most about being a pornstar?
Dani Blu: The thing I mostly enjoy about being a porn star are the opportunities and the wide variety of people that we meet.

Where do you see yourself in 5 years time?
Dani Blu: I see myself in my own house with my dog married to my girlfriend being a medical student and still pursuing my adult film career.

What's your favorite sexual position on & off camera & why
Dani Blu: My favorite sexual position on camera would be doggy style off camera would be scissoring only differences with a guy and girl because mostly on Camera it's normally not scissoring with a girl.

Which pornstar would you most like to work with?
What would you change about the adult industry?
Dani Blu: The fact that they have stepped away from girl on girl porn because they feel like that there has to be a man in it I feel like that they should do both and not limit it to just boy girl.

Have you ever been grossed out during a shoot?
Dani Blu: Yes I have from just cleanliness of talents I just kind of went with it didn't really say anything just to keep it professional.

Are there any sex acts that you haven't shot yet but want to?
Dani Blu: No not really but I guess one thing I would like to try is a girl gang bang.

Has the stigma around the adult industry affected you?
Dani Blu: Honestly this doesn't affect me at all in anyway or form I don't even think about it I think about how successful I am and how many opportunities it has opened up for me.

What's the weirdest thing that you've been asked to do during a shoot?
Dani Blu: I've done a lot of weird stuff but I guess the weirdest thing I've ever been asked is to fake sleep.

What advice would you give to someone wanting to get into the industry?
Dani Blu: Don't listen to anyone only yourself.

What hobbies & interests do you have outside of the adult industry?
Dani Blu: I dance, sing, paint, I love cheerleading and softball.

Do you use sex toys? If so which ones?
Dani Blu: Yes dildos and vibrators.

To date which porn scene are you most proud of & why?
Dani Blu: Bang bro's with Sean lawless because it was fun

Do you watch porn? If so what type?
Dani Blu: Yes lesbian porn.

If you were interviewing a pornstar what would you ask them? & answer this question


Dani Blu: I would ask them how they feel about the pay for boy girls and my answer would be I feel like it should always be 1000.

What really turns you on?
Dani Blu: Someone eating my pussy and biting me.

Who would you like to nominate to answer these questions within the industry?
Dani Blu was interviewed by guest interviewer Lior.

More of Dani Blu can be seen by clicking the links below