Tell us a bit about yourself
Ashley Wolf: Hi I'm Ashley Wolf! I am a big people person. Love going out for a fun night on the town. Most of my free time I go on long hikes into the wilderness with my dog. Absolutely love being behind the camera and filming dirty things for all my fans to watch 😏 I recently started learning how to paint and I'm actually a lot better than I thought I would be lol. I also love to cook and bake 😊.

Describe yourself briefly growing up?
Ashley Wolf: I was a raised by my mom and for the first 7 years of my life I lived in the country so I grew up around horses and riding. Then I moved to a bigger town and was always outside playing with my friends. When I turned 12 I moved to Vegas and that's when I started to learn a lot more about the world. I had never seen sex or drugs before I moved here so it was all new. I made lots of friends in school some of which I'm still best friends with now! We use to go to a lot of hardcore concerts and events.

What are your stats/measurements?
Ashley Wolf: I'm 34B-28-35. height 5'7 weight 130 ibs.

How did you start within the industry?
Ashley Wolf: I actually found an add on Craigslist and met this man named mike on the strip. He took some pictures of me and then proceeded to tell me I had a shoot with VIXEN!! I was soooo exited! But then he told me it got canceled. After that he said he can introduce me to an agency. I was so happy
so one night me and him took a ride to this big house it was so beautiful
I had never been in such a big house before.
The agency was LA direct models. I talked to a guy named Chris and also Derek Hay. Chris took my ID and measurements I signed my papers and left. As being new I had no clue what to expect…well that was in November, I didn't hear a word from them until January when Chris asked me if I wanted a booth at AVN and if I could do a live GG show at one of the after parties. I Instantly said YES! Also they got me a last minute shoot with FTV.
After AVN I didn't hear from them for months so I got frustrated and left the agency. I found 101 model and coxxx models, I ended up signing with Coxxx models and I've been with them since
Conor Coxxx has always treated me with respect and helped me find work.

How did you create the name?
Ashley Wolf: I've always liked the name Ashley and it seemed to fit me 😊 my last name comes from my love of wolves 🐺 I use to own a wolf hybrid so they have a special place in my heart.

What do you enjoy most about being a pornstar?
Ashley Wolf: Everything honestly! Getting to be behind the camera is such a turn on for me. Getting to act, meeting all the other amazing talent! Knowing that my fans are out there enjoying my content! Traveling.

Where do you see yourself in 5 years time?
Ashley Wolf: Owning my own home, being able to enjoy life and reap the reward of all my hard work. Hopefully have had started my own production company cause I love to film as well as be in front of the camera!

What's your favorite sexual position on & off camera & why
Ashley Wolf: Doggy while having my hair pulled or my neck held.

Which pornstar would you most like to work with?
Ashley Wolf: I always mention @xAIDRAFOXx cause she's so beautiful!! But as for men it would be @JohnnySins I was recently supposed to shoot with him but I couldn't cause I was moving at the time.

What would you change about the adult industry?
Ashley Wolf: The fakeness of some people! It baffles me to see how many fake people are in the industry. No need for it! We are all here to survive.
Also some are rude. No need for that either.

Have you ever been grossed out during a shoot?
Ashley Wolf: Never! We always go through our likes and dislikes, dos and don't before we shoot so we can have the best shoot together as possible 👍

Are there any sex acts that you haven't shot yet but want to?
Ashley Wolf: Threesome, gangbang, gloryhole, all girl orgy! Bukkake.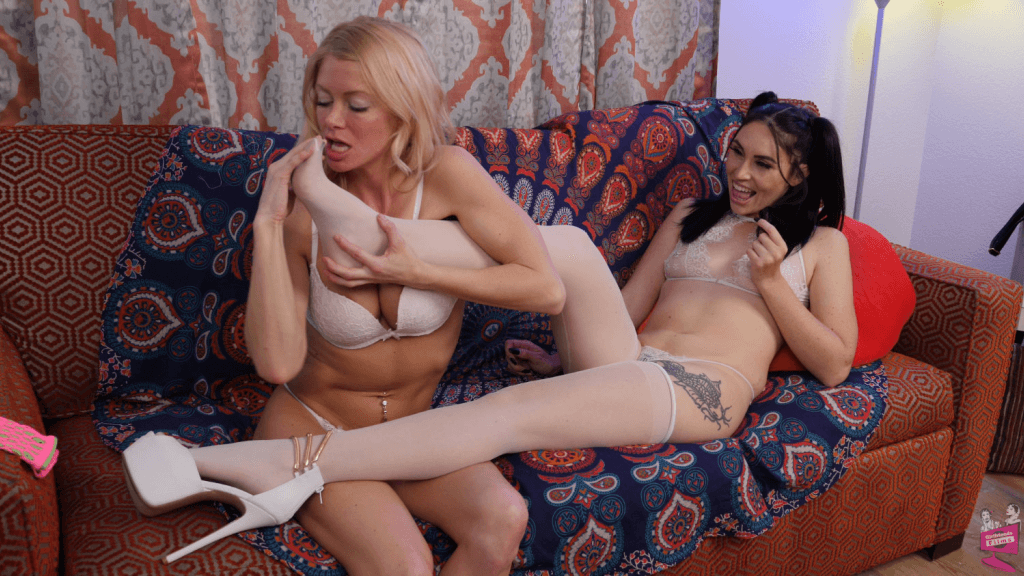 Has the stigma around the adult industry affected you?
Ashley Wolf: I've never had any problems.

What's the weirdest thing that you've been asked to do during a shoot?
Ashley Wolf: The voyer stuff. But I honestly love to shoot it! It's a lot of fun. I once got put into a giant oven and got cooked!

What advice would you give to someone wanting to get into the industry?
Ashley Wolf: Definitely do your research on agency's and don't let anyone bully you! Do not rely on agents to pay your bills, make your own content and have more than one platform to sell it on.

If you directed a scene what would it be about and who would feature?
Ashley Wolf: Lol a scooby doo parody with @MeganMarxXXX as velma. @TheAriaCarson as Daphne. @WolfPackPorn as shaggy. and @SamPerfectBody as Fred.

What hobbies & interests do you have outside of the adult industry?
Ashley Wolf: Painting, hiking, horseback riding, playing video games and photography.

Do you use sex toys? If so which ones?
Ashley Wolf: I looovveee toys!! My hitachi is my favorite, SVAKOM COCO G Spot Vibrator is another really good one it makes me squirt
I currently only have a dildo but it's just for throat training.
To date which porn scene are you most proud of & why?
Ashley Wolf: The twisted passions 28 I did with the amazing Serene Siren @Serenesirenxxx.

Do you watch porn? If so what type?
Ashley Wolf: BG, GG, solo, orgy, and whatever seems to pop up on my feed on Twitter.

If you were interviewing a pornstar what would you ask them? & answer this question


Ashley Wolf: Is the adult industry all you expected it to be?

Honestly no! I have had my eyes opened up to so many things! I've become way more understanding and less judgmental. I had never really thought about adult industry workers as anything else but porn stars, but they are!! Their are so so many down to earth amazing people in this industry and I'm so happy to have met the ones I have and can't meet the rest of them!

What really turns you on?
Ashley Wolf: Passionate kissing, sucking dick, getting eaten out.

Who would you like to nominate to answer these questions within the industry?
Weed or alcohol?

Ashley Wolf: Weed!!
Bong or joint?
Ashley Wolf: Bong.
Tattoo or piercing?
Ashley Wolf: Piercing they can be taken out it's a lot harder to get rid of a tattoo lol.
Piercing in clit or boobs?
Ashley Wolf: Boobs.
Meat or vegan?
Ashley Wolf: Meat.
Fuck a fan or masturbate?

Ashley Wolf: Masturbate.
Masturbate with fingers or dildo?
Ashley Wolf: Dildo
Orgy or gang bang??
Ashley Wolf: Gang bang.
Cum or squirt in face what do you love?
Ashley Wolf: Cum in my face.
Lick pussy or suck dick?
Ashley Wolf: Both please!!
What's favorite food?
Ashley Wolf: Barbacoa Tacos
Ashley Wolf was interviewed by Lior

More of Ashley Wolf can be seen by clicking the links below