Tell us a bit about yourself?
Sabryna: I'm Sabryna. I am from Quebec, Canada. I am french Canadian. I am an adult critic for Adult Dvd Talk, WCA Review and Xcritic. I'm also a content creator on Onlyfans.

How have you dealt with the current pandemic?
Sabryna: As good as we can deal with the whole situation. There are a lot of things that I was taken for granted in my life, the pandemic definitely changed that. It makes me appreciate the small things even more. I just really miss seeing my family, friends and being able to go where I want.
Tell us about eXXXotica Miami:
Sabryna: I am going to Exxxotica Miami, in September. I'm pretty excited since it is gonna be my first time in the USA, first time at an adult convention as well. A lot of first times for me. I feel like I am at a point in my life where I need my comfort zone to be shaken a little bit and live new adventures.
How did you become an adult critic?
Sabryna: I was that big fan of Keisha Grey on Twitter. I was friends with a reviewer and I would always be messaging him about stuff that I would see in porn scenes, like details. I'm very observant. He knew I was a writer so he said that I should review porn. I thought he was joking so I didn't really reply. He made a tweet a few weeks later asking people to convince me to review porn. I finally realized he was serious and I took the plunge. I started at Adult DVD Talk, WCA Reviews then a few months later Xcritic approached me.
How long have you been reviewing adult content?
Sabryna: Almost two years. I started in July 2019.
Talk us through your process for reviewing adult content?

Sabryna: I don't really have a process. Most of the time, I just watch the scene a first time and take some notes. Then I watch it a second time a few days later and write the review as I watch the scene. I usually always wait for a few days after watching a first time to process the scene then come back with a clear head to review it. I am just observant, so I pay attention to everything. The sex, the camera, the light, the story, the takes, everything. If a fly farts in the background, there are chances I will notice lol

Can you review any adult content or are you limited to certain companies?
Sabryna: I always choose what I review. I am more comfortable with scenes instead of movies because it is less work and I can really focus on one thing. I want to review more companies and productions. I want to expand my spectrum. I feel like we always review the same people, the same compagnies. There are so many underrated talents, directors, producers and companies in this industry.

If you had to pick one adult performer to review that you haven't already who would it be?
Sabryna: Probably Brynns Michaels. She is so beautiful and she seems to be so creative.

To date what's your most memorable review and why?
Sabryna: Probably my very first one because I was terrified. I learned English all by myself, without courses like 3 or 4 years ago. I had English courses when I was younger but I failed them so bad, that I wasn't able to go to college. I hated English so much because I was struggling my ass off. I was even ditching the class. So reviewing in another language was pretty scary but at the same time it was all so new and exciting! I felt grateful to have the opportunity to review porn. I still do.
If you directed an adult movie what would be the theme and who would feature?
Sabryna: A passionate sex scene in the rain. I think the rain is so sexy. It would feature Keisha Grey of course and I would let her choose her partner, boys or girls. As long as she would be having fun. That's what really matters to me. Creating and having fun in the process of creating.

What advice would you offer to new adult performers?
Sabryna: To be themselves and that you don't have to do things you don't want to do, or that you aren't comfortable to do yet or ever. Life is too short to do things you hate or that makes me feel uncomfortable. Oh and that perfection doesn't exist. You are beautiful just the way you are inside out. Perfection and competition are just silly.

What advice would you offer to directors?
Sabryna: Pretty much the same thing. Like is too short to do things you hate. I've seen a few directors lately tweeting that they hate the porn that they are directing. It is sad because they are talented and could create things they would actually love. Respect the talents, female and male. Listen to them.
Tell us about your first adult review?

Sabryna: It was a DVD from Lesbian X called "Lesbian Strap-On" starring Abella Danger, Keisha Grey, Gina Valentina, Olive Glass, Cherie Deville… Reviewing was so scary for me because first it was in English and I was so nervous to fuck this up. So I chose a familiar and comfortable ground which was this DVD since I had watched Keisha's scene in it like more than a hundred times! I feel like I would be comfortable reviewing something I knew well and I was right. So I started with this scene on the DVD, then felt more confident reviewing the other scenes, which were phenomenal. I write a lot of poetry so I tried to add a bit of poetry in the review, like playing with words and it worked well.

What's your favorite adult genre to review?
Sabryna: Probably gonzo scenes. Maybe because they are my favorite kinds of scenes. I don't really like stories in my porno. I am not patient enough for that haha I just like authentic and raw sex. No bullshit, no stories, just two people having the most fun together. That's the porn I like to watch and review.

Has a director or performer ever told you that they weren't happy with your re
Sabryna: Yes, there was this female performer that I reviewed not so long who was extremely unhappy with the review. She put me on blast on Twitter and actually sent another sex worker to bully me. I knew it would actually happen. You cannot make everyone happy. My job is to be honest, in a much polite and decent way. If a scene is not good, then it is not good. Not every porn scene is good.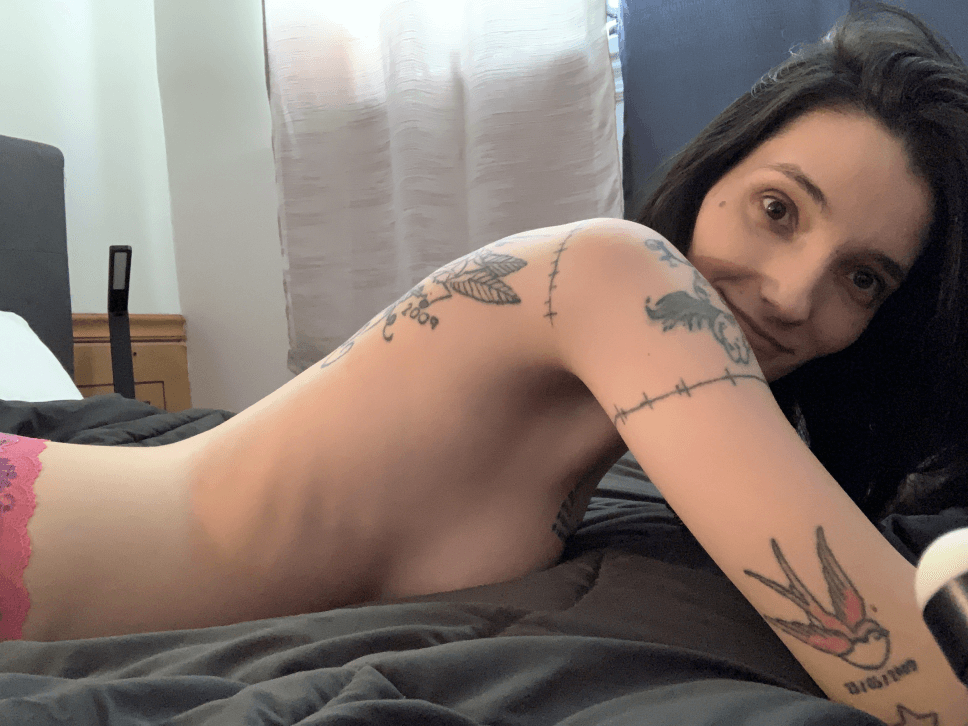 How did you get into onlyfans?
Sabryna: I got into Onlyfans because I had a low self-esteem. I was struggling a lot with the way that I looked, especially since I had lost weight because of IBS. It was really hard for me. I connected with someone who was making me feel so good about myself. They were making me feel so beautiful and special. And it was the way I am inside out. So being around this person gave me the confidence to take the plunge and try Onlyfans. I am a very sexual person and adventurous. I always felt like I was a bit exbitionist deep down but the only thing stopping was my low self-esteem and my lack of confidence. So I got into onlyfans, the idea was to use it to build my confidence and try new things.
What do viewers see who watch your content?
Sabryna: I'm very transparent with fans. They are well aware that I started onlyfans to build my confidence and such. So I do things at my pace. I was very surprised that most of my fans actually love that. They love seeing me and my confidence grow through my content. At the moment, I only do solo but starting to shoot with girls next fall.

What do you enjoy about Onlyfans?

Sabryna: I enjoy Onlyfans for the way I use it to work on myself. I enjoy working hard and it is definitely a lot of work!!! I enjoy learning new things not just about myself but about creating content. I love that I get to put my creativity to work. It makes me feel good about myself. And I love interacting with people, getting to know them and their kinks. I appreciate the love and support I get on the platform.

You're going to be creating content with other female webcammers, can you name some of them?
Sabryna: Yes, Gia Paige, Lena Starr, Violet Starr, Brielle Frost, Lita Lecherous and some more. I am very excited because they are all so beautiful, talented and creative. I can't wait to make magic on screen with them. And they are all so authentic, passionate and down to earth.

You're also a big gamer, how did that start?
Sabryna: My dad was a big gamer when I was a kid. Always on his computer for hours every day, either working or gaming. He introduced me and my siblings to games like Doom, Wolfenstein, Duke Nukem, Mario Bros, Need for Speed and many more. We all had a computer in our bedrooms to play games, either solo or against each other. Even my mother would play with us. She was into games like Alone In the Dark, Prince of Persia, Need for Speed. She was kicking my ass in shooter games. We all ended up pretty much gamers.
So you film yourself while playing video games?
Sabryna: I started streaming games on Twitch literally a few weeks ago. I don't show my face at the moment. I do not have the proper equipment and most important, the confidence yet, to do it. It is a plunge I would like to take eventually. Twitch was something I always had an interest in, and the other day I was just like, fuck let's do it. I started recording it and I had the most fun. I get to write a lot in English on a daily basis but not much to practice it orally. Where I live everyone speaks French. So I see Twitch as a chance to practice and build my confidence in that area. And of course to connect with people and have the most fun!

What type of video games do you like to play?
Sabryna: I like shooters games the most like Call of Duty, Doom, Tom Clancy's, Unreal Tournament and many more. I also like racing games, action-adventures games,

What's your favorite game?

Sabryna: Quake III Arena. It is an old multiplayer first person focused shooter game. It was so fun playing it, especially with my family. I would get my ass kicked by my mom.

Sabryna: I am decent haha. I am just trying to have fun and get my mind off things when I play.

When did you become sexually aware?
Sabryna: Very, very late. I grew up in a very religious environment. I grew up in a protestant family and sex was so taboo. I didn't receive any sexual education, not even in a school since I was going to a christian school. I had no idea what sex was. I thought it was two people getting naked and rubbing against each other haha. Well in my case, as a lesbian is a kind of true lol I always knew I like girls though, I think I got aware of that at 5 or 6 years old. I knew there was something different about me. I had a few boyfriends when I was a teenager but there was no sexual or emotional attraction. I would say it is really at 16 that my hormones started waking up and the way that I was feeling about girls became stronger than ever. I had my first experience with a girl at 17, never had any with men. I had no idea what I was doing haha A year later, I dated an old woman and I learned a lot about sex.

You're a pretty girl with a nice figure, with great boobs and you not only watch porn but you review it. Are you everyone's dream come true?
Sabryna: Thank you! Well, as long as I am not everyone's nightmare comes true (laughing).
Sabryna: I was born without any patience. I am so impatient that it annoys me most of the time. I hate waiting or wasting my time. I'm also very sensitive and emotional, so I always have to step back and analyze the situation and what I am feeling because not everything needs a strong reaction.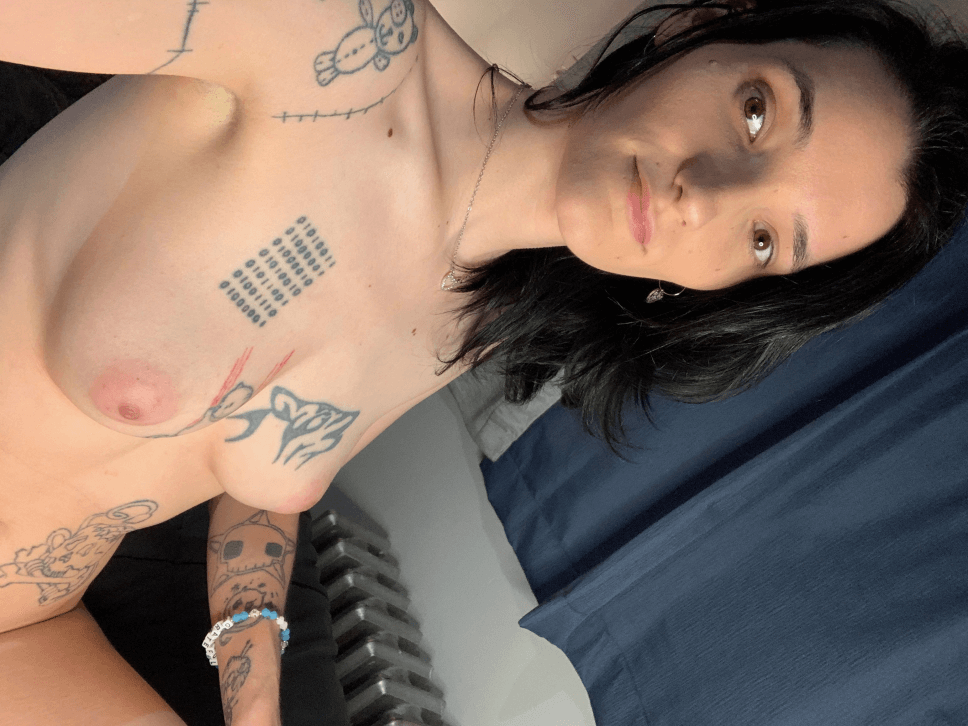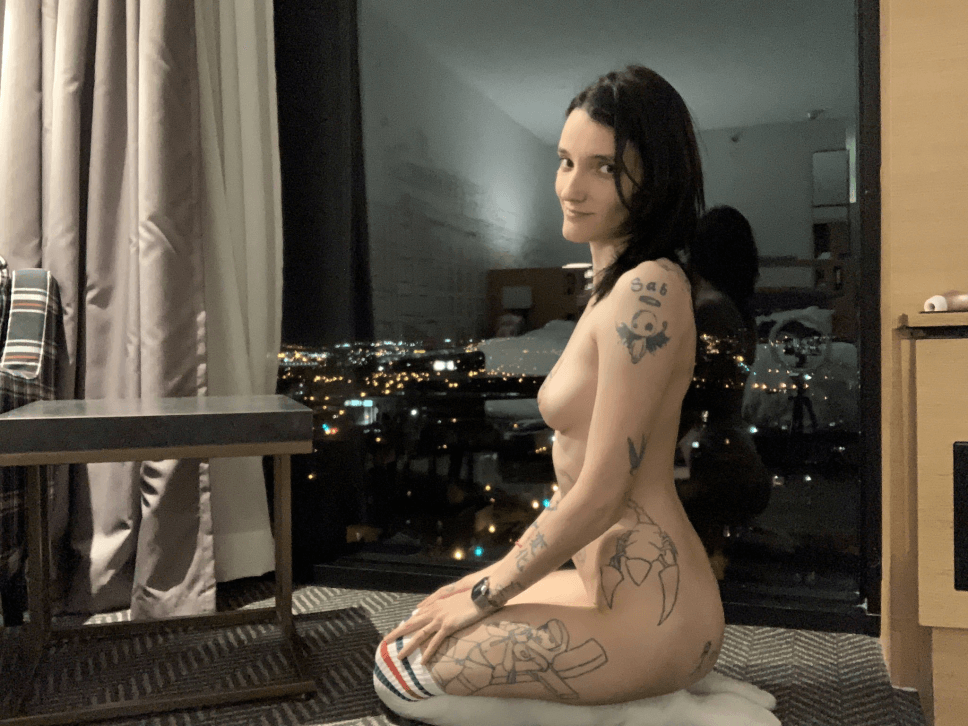 On your social media you're a big fan of Keisha Grey, what is it about her that you like?
Sabryna: At first, it was her shyness, her face and her cute gap-toothed smile that really got me hooked. And she has a phenomenal body obviously. She was very shy and reserved at the beginning of her career and somehow I felt like I could relate to her because of that. Now, I just really like her as a person. She has the most incredible soul and personality ever. She is so kind and caring about the things that really matter in life. I don't really consider myself a fan anymore more like a supporter because I really appreciate her more on a human being level. Sometimes I just get so caught up in the amazing person that she is deep down behind the performer that I forget that she is that same girl that I was drooling all over myself looking at in porn movies.

On Twitter you mentioned about being sober, tell us about your battle with alcohol?
Sabryna: I got strongly addicted to Zoloft then Xanax a few years ago after I got them prescribed to me for panic attacks. I was the girl that was not interested in drugs in general. I was smoking weed and that was it. I was struggling hard a few years back with anxiety and it turned into panic attacks. So the doctor prescribed me Zoloft. I got addicted to it but it was mostly making me suicidal so I switched to Xanax… my addiction became out of control. I overdosed twice on it, the second time a friend found me in my apartment barely breathing. I never felt worse physically in my life than when I woke up in the hospital. I had no memories of the overdose and the few weeks before it. I couldn't tell which day or week we were. It was the scariest experience of my life. It was what I needed to get sober. I have five years of sobriety.

You mentioned that you're now happy with your weight, what weight were you and what made you change?
Sabryna: We have weird genetics in the family. Either people are struggling with being underweight or with being overweight. I always have been skinny, but I was the only member of my whole family who was at a healthy weight, and that without effort. And I was eating a lot back then, like a lot. So I wasn't the type to worry about my weight at all. Then I got IBS and the crisis was so painful. I didn't know what it really was back then and the only way I found to ease the pain was to eat less. So I started to eat less and less. I didn't realize right away that I was losing weight, because my weight is something that I've never got to worry about before. I remember taking a selfie for a friend, and I see how skinny my face and arms looked… It broke my heart. I was 95 pounds. It made me incredibly insecure about my body and the way that I looked for a good two years.

My weight recently changed. I went back to 105 pounds which is my healthy weight. I am trying my best to get my stomach to eat the way it used to. It is difficult because after spending two years barely eating 800 calories, your stomach gets used to it and you have less appetite. I just work out 4-5 times a week and eat a lot. I order a lot of uber eat, it's easier for me to gain weight since most meals are like almost 1000 calories. So I get more calories in just one meal than I would usually do in one day. I was really happy to be back at my healthy weight. It brings back some of my confidence and I'm starting to love my body again, slowly.

How many tattoos do you have?
Sabryna: More than 40 but some are pretty small.

Which tattoo is your favorite and why?
Sabryna: Probably my name in binary code on my right boobs or the dot to dot pokemon on my left legs. Those two are pretty original.
What really turns you on?
Sabryna: I love women who have really strong personalities. Personalities that some people would consider as "difficult". To me, it is a big turn on. I love a good-hearted, passionate savage woman. It is so sexy. Plus, it is the type of woman that I love to dominate the most. The kind that you cannot dominate easily… Having them surrender to me, abandoning themselves under my touch, turns me on more than anything else. I love working hard to gain someone's trust and see the fruit of it… in bed. I like kind and down to earth women. I like them passionate. To me it is all about personalities and the way I feel when I'm around you. I do have a thing for big boobs and big asses not gonna lie. And most of the women I am attracted to have latina genes. Always had a crush on Latina girls (drooling).

What's your favorite sexy toy?
Sabryna: The Satisfyer Pulse Simulator. Me and my clitoris cannot live without this toy. The day that toy is gonna break, I'm gonna cry haha

What are your plans for the future?
Sabryna: Gaining more and more confidence one day at a time and creating. Always creating. I'm starting to shoot with girls when I'm gonna be in Miami so I'm pretty excited. I want to travel and connect with new people. I want to keep reviewing porn. And I want to remain humble and a good person.

Who, within the adult industry would you like to nominate to answer these questions?
Sabryna: Keisha Grey, Violet Starr. Ella Hughes for sure. They are so down to earth, talented and very creative people.

To see more of Sabryna click the links below
Who's your favorite PORNSTAR?..